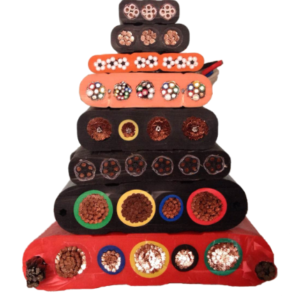 Rated Voltage: 300/500V; 450/750V; 0.6/1kv
Model No.: H07VVH6-F, YFFB, HT-PNCT; HT-PNCT-R;HT-PNCT-F,etc. other types can be produced according to client's
Conductor: Copper or Tinned Copper
Insulation: PVC/Rubber/EPR
Cores: Multi-core
Standard: VDE0482, part 265-2-1 resp. EN50265-2-1 and IEC603321
Packaging: Wooden Drum+Wooden Pallet/Wooden Box
Structure:
1.Conductor: superfine copper strands acc. to VDE0295,class 5.
2.Insulation: mixed PVC/Rubber, resistant to oil, flame resistance and self-extinguishing
Color: acc. to 2271IEC(brown, blue, black, green/yellow)
5 cores or more with black number with white digital coding
3.Sheath: Butadiene-acrylonitrile rubber; resistant to oil, flame retardant and self- ? extinguishing
4.Color: black (RAL9005) or grey(RAL7001).
5.Standard: acc. to VDE0482,part 265-2-1 resp.EN50265-2-1 and IEC603321-1
6.Technical data:
7.Rated voltage: 300/500V?
Test voltage:<=1.5mm 2500V >1.5mm:3000V
8.Minimum bending radius:0.3m<L<0.6m
9.Burning vertically test: GB/T1 ?8380.1–2001,IEC60332–1:1993 test
10.Passedstandard:GB5023.6 ,IEC60227–6,EN50214.
Used under the normal conditions, the temperature of conductors is lower than 70oC
11.Temperature range:-15C to +40C

Applications:
As connecting and control cable for cranes and conveyors, it is suitable for the places of railway stations, crane and other related situations.
It is suitable a control and connection cable for cranes and conveyors on building sites, container goods railway station and dockyards where operating conditions rough.