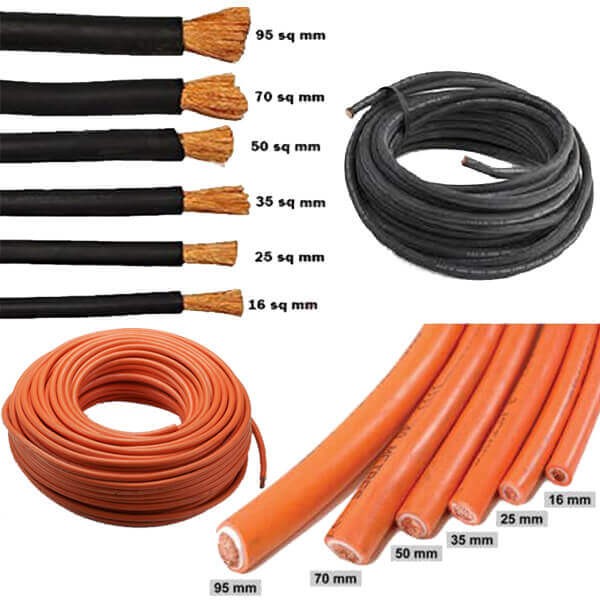 Voltage: 450/750V, 600V
AWG: 6, 4, 2, 1, 1/0, 2/0, 3/0, 4/0, 250, 350, 500
Conductor: Flexible bare annealed copper wire or tinned copper wire
Insulation: PVC or Rubber or EPR material
Sheath: Natural rubber, Horoprene rubber or other syntheitic rubber,PVC or or CSP.
No.Cross-section: 10mm2, 16mm2, 25mm2, 35mm2, 50mm2, 70mm2, 95mm2, 120m2, 150mm2, 185mm2 ,240mm2.
Color: Choice of Black, Orange, Red or Yellow Blue jacket, single & double insulated.
Standard: IEC60245,ASTM,VDE,DIN etc
Welding Cable Size Sheet
| Description | Core Numbers | Conductors Range |
| --- | --- | --- |
| Natural rubber sheath for welding cable | 1 | 10~240mm2 |
| Horoprene rubber or other syntheitic sheath welding cable | 1 | 10~240mm2 |

Application:
1. These flexible and robust current-carrying cables are suitable for use at high mechanical loads in dry indoors.
2. Welding cable are used for connecting the electrodes to the welding equipment,charger machine.
3. welding cable are suitable for welding equipment,charger machine in industry , in automated welding equipment, in tooling constructions, automobile and shipbuilding as well as for hand-held electrodes in workshops and at building sites.


Welding Cable Characteristic:
1. Resistance to oil, solvents & chemicals
2. High resistance to cuts, tears & abrasion
3. Excellent ozone & weather resistant
4. Outstanding toughness and Durability